Fijian Beachfront Resort For Sale on Taveuni Island
Coconut Grove Beachfront Cottages
A Turnkey Business and Lifestyle Opportunity
Property Overview
The main property consists of 3 separate private cottages (bures), owner's accommodation, maid's quarters, restaurant, reception area with a small boutique shop, and kitchen. 2 small private tiki huts for occasions such as wedding ceremonies, candlelight dinners & massages are located directly on the beach.
The adjacent undeveloped half acre increases the beachfront by a further 100 feet and offers a number of expansion opportunities: for increased income between 4 and 5 additional guest bures, or 2 private 5 star villas, or for upgraded owner accommodation and maids quarters thus freeing up the existing space in the main building for alternative uses.
Current Resort Status
Currently there are 3 bures (cottages) at the existing resort. All are private, each separate with unobstructed views of the beach and the ocean. This is a beachfront, couples only resort – the only one of it's kind on Taveuni.
The 2 largest cottages have king size beds with connected outdoor hot water showers overlooking the ocean. The smaller cottage has a regular indoor shower and a private outdoor cool water shower a few steps away.
When fully booked, the 3 cottages bring in US$725 per night.
Future Resort Development Options
Upgrading existing 3 cottages to include air conditioning and upgraded furnishings could double existing income to US$1450.
Adding 4-5 more cottages on the ½ acre of freehold beachfront next door with similar upgraded amenities including air conditioning could yield US$700-800 per cottage – potentially an additional US$2800-4000 per night.
Alternatively, new owners might want to build two large 5 star villas (2 bedroom, 2 bathroom) each with private pools. Potential income for this development would reasonably be US$1500-2000 per night per villa, i.e. between US$3000 and US$4000 in total.
So by upgrading existing 3 cottages and adding 2 of 5 star villas the potential daily income would increase from US$725 to US$5450.
Government power will be available in the next 6-12 months. This will enable new owners to make these upgrades without expanding the existing generator and solar power supply
Resort Restaurant
The restaurant is small and intimate, set on the front verandah of resort overlooking the ocean. The restaurant area is used for all guest meals unless they opt for private candle-lit dinners on their own verandah or on the beach. The restaurant is also open to the public, and has a long established reputation as one of the finest restaurants on Taveuni.
With the addition of an onsite bar there's a potential for an extra $3000-5000 US per month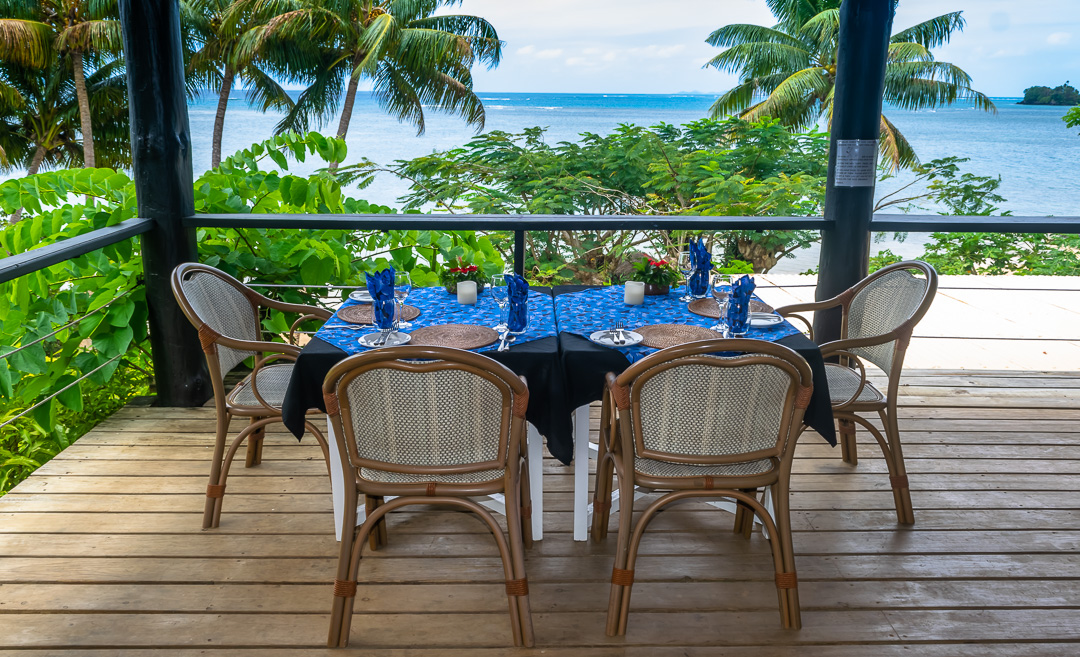 Taveuni - The Garden Island
Taveuni Island has many extraordinary diving and snorkeling sites, incredible nature walks, amazing sunrises and sunsets, and truly beautiful people with a strong sense of tradition.